All things considered, Indiana's grass zone favors cool-season grasses, which can blossom in the state's humid continental climate. By laying your grass in the fall or spring, you're setting your lawn up for a victory lap."
Introduction
Indiana's climate plays out in the form of a humid continental dance, with hot summers and frigid winters. Such a climate has a say in the grass species that will do well in this region.
Cool-season grasses, which can soldier through both icy winters and scorching summers, are generally a match made in heaven for Indiana's conditions. To get the best out of your grass in Indiana, consider laying it in the fall, specifically between mid-August and mid-September.
This timing sets the stage for the grass to establish a solid root system before winter comes knocking. Spring is also a suitable time for grass-laying, but it's wise to hold off until Jack Frost has made his last appearance.
All things considered, Indiana's grass zone favors cool-season grasses, which can blossom in the state's humid continental climate. By laying your grass in the fall or spring, you're setting your lawn up for a victory lap.
Which grasses grow best in Indiana?
In the world of landscaping, not all grasses are created equal. Each thrives in a specific climate zone: cool, warm, or transition.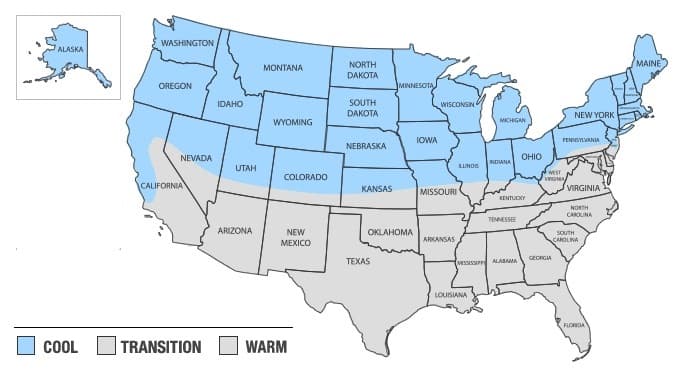 Indiana, with its cool season climate, prefers a particular set of grasses that relish the lower temperatures. The following grasses are the easiest to grow and maintain in Indiana:
Tall FescueCool-season grass, shade-tolerant, deep-rooted, ideal for lawns, pastures, and sports fields in cooler climates. The price per square foot for Tall Fescue generally ranges from $0.60 to $0.85 per square foot.
Kentucky BluegrassCool-season grass, lush green, fine texture, good for lawns, golf courses, and sports fields in cooler regions. The price per square foot for Kentucky Bluegrass generally ranges from $0.35 to $0.70 per square foot.
Perennial RyegrassCool-season grass, fast-growing, excellent wear resistance, often used for overseeding, ideal for lawns and sports fields. The price per square foot for Perennial Ryegrass generally ranges from $0.30 to $0.65 per square foot.
Fine FescueCool-season grass, shade-tolerant, fine texture, low maintenance, ideal for low-traffic lawns and erosion control. The price per square foot for Fine Fescue generally ranges from $0.45 to $0.75 per square foot.
While it's possible to grow grasses meant for other regions with proper care, attention and timing, these are the most common grasses in Indiana for residential lawns.
What is the best time to lay sod in Indiana?
Since it is considered a cool-season location, the ideal time to lay sod is in early spring or early fall. These periods offer moderate temperatures, leading to less stress on the sod and providing optimal conditions for root establishment before extreme temperatures of winter or summer. Avoid the summer, as high heat can stress the sod.
As you can see in the image below, you'll notice the most shoot growth (the grass above ground) and root growth in the spring and fall for cool season grases: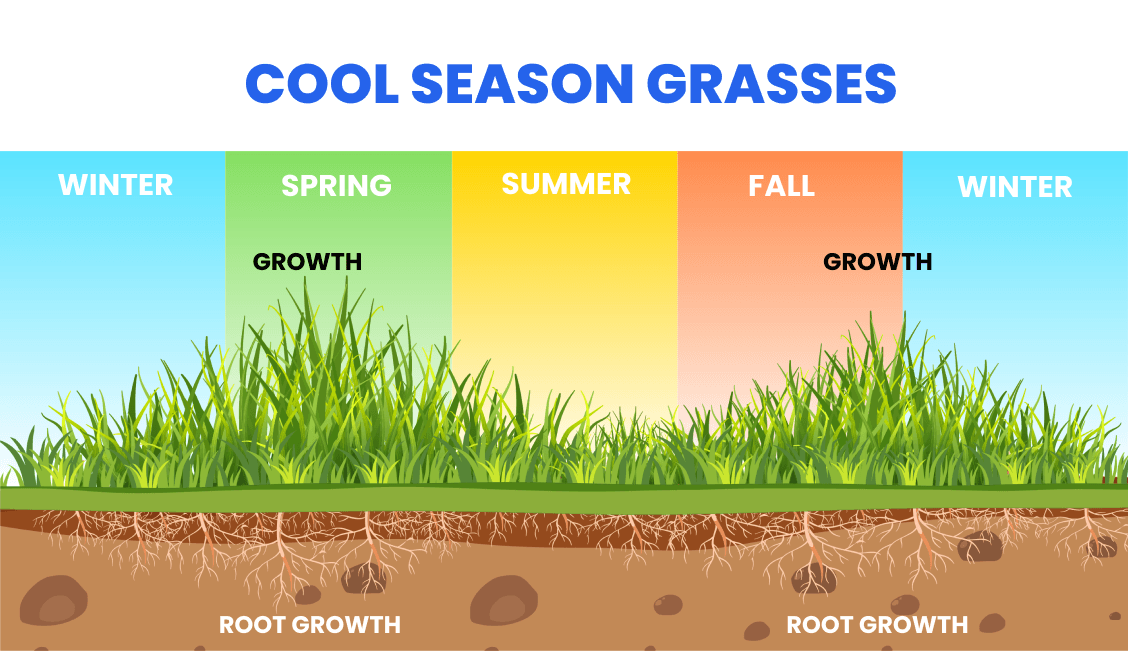 Best Grasses for Shade in Indiana
When it comes to shade-tolerant grass for Indiana, we've got three heavy hitters – Fine Fescue, Kentucky Bluegrass, and the underdog, Tall Fescue. Let's break down each for your better understanding and maximum lawn success.
Fine Fescue remains a solid choice for us here in Indiana. Known for its shade tolerance, it cuts through the gloom like a knife, thriving where others falter. Its sunlight requirement? A mere four hours, a true vampire of the grass world. While it's a cool season grass, its winter-hardiness makes it more than capable of surviving the unpredictable Indiana winters.
Next, our favorite son, Kentucky Bluegrass, isn't named because it's idle in the shade. While it enjoys basking in the sun for around six to eight hours daily, it brings its A-game even under the cooler, shadier conditions. Its resilience lets us forget the worries of bare patches and crabgrass invasion.
Tall Fescue, the unsung hero, is our wildcard. It plays well with partial shade, surviving on as little as four to five hours of sunlight per day. While it might not be the first choice for everyone, it certainly deserves honorable mention. Its heat, drought and wear resistance makes it more than capable of handling whatever Hoosier weather throws at it.
So, there you have it - a triad of grass types that shrug off the shade and keep your Indiana lawn lush and alive in those cooler, shadier spots. No need to stress over those canopied corners and under-tree stretches. With Fine Fescue, Kentucky Bluegrass, or Tall Fescue, you're all set to conquer the shade.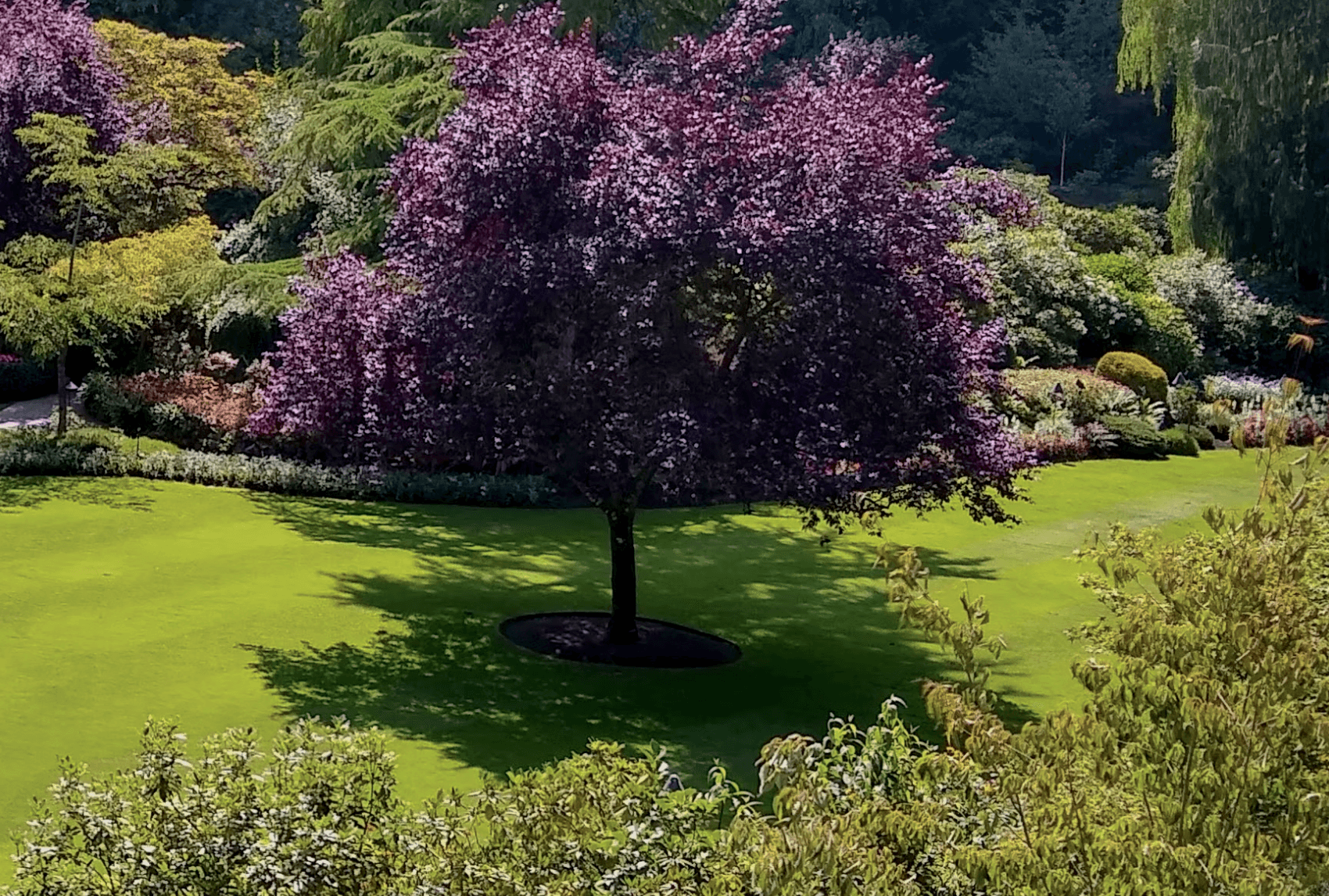 What grasses stay green year-round in Indiana?
As with anything agriculture related, there is some nuance to this question. There are many grasses that can stay green year round in but it depends heavily on your location within the state as well as any microclimates that may exist.
The following grasses have the ability to stay green year round in Indiana:
| Grass Type | Caveats |
| --- | --- |
| Tall Fescue | It typically stays green throughout the year in milder climates, given that it isn't overly stressed by heat or drought in the summer. |
| Kentucky Bluegrass | It can retain its green color for much of the year when well-maintained, though harsh winter temperatures can push it towards dormancy and a browner hue. |
| Perennial Ryegrass | It can stay vibrant and green throughout the year in many climates, unless conditions are extremely cold or dry. |
| Fine Fescue | It keeps its green color throughout the year in ideal conditions. If the winters are particularly harsh, it may lose some color. |