Several factors can sway which grass type will flourish best, including the soil type, sunlight exposure, and the availability of water. Having a chat with a local lawn care expert can guide you in selecting the grass that will satisfy your particular needs the best."
Introduction
Wisconsin enjoys a humid continental climate, characterized by chilly winters and warm summers. The state sits snugly within the cool-season grass zone, meaning that the best-suited grass varieties for Wisconsin are those that thrive in cooler weather.
These types of grass typically prefer temperatures ranging from 60 to 75 degrees Fahrenheit, usually the conditions you'd find in Wisconsin's spring and fall seasons. The most opportune moment to plant grass in Wisconsin lies within the fall, precisely between mid-August and mid-September.
During these weeks, the drop in temperature coupled with a rise in moisture creates an ideal environment for grass seeds to sprout. But remember, it's critical to pick the right type of grass for your specific spot in Wisconsin.
Several factors can sway which grass type will flourish best, including the soil type, sunlight exposure, and the availability of water. Having a chat with a local lawn care expert can guide you in selecting the grass that will satisfy your particular needs the best.
Which grasses grow best in Wisconsin?
In the world of landscaping, not all grasses are created equal. Each thrives in a specific climate zone: cool, warm, or transition.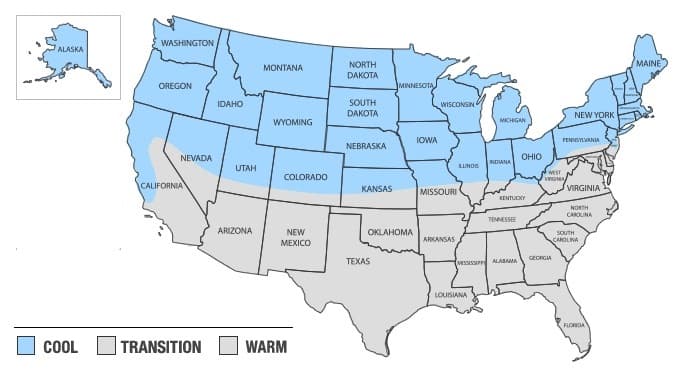 Wisconsin, with its cool season climate, prefers a particular set of grasses that relish the lower temperatures. The following grasses are the easiest to grow and maintain in Wisconsin:
Tall FescueCool-season grass, shade-tolerant, deep-rooted, ideal for lawns, pastures, and sports fields in cooler climates. The price per square foot for Tall Fescue generally ranges from $0.60 to $0.85 per square foot.
Kentucky BluegrassCool-season grass, lush green, fine texture, good for lawns, golf courses, and sports fields in cooler regions. The price per square foot for Kentucky Bluegrass generally ranges from $0.35 to $0.70 per square foot.
Perennial RyegrassCool-season grass, fast-growing, excellent wear resistance, often used for overseeding, ideal for lawns and sports fields. The price per square foot for Perennial Ryegrass generally ranges from $0.30 to $0.65 per square foot.
Fine FescueCool-season grass, shade-tolerant, fine texture, low maintenance, ideal for low-traffic lawns and erosion control. The price per square foot for Fine Fescue generally ranges from $0.45 to $0.75 per square foot.
While it's possible to grow grasses meant for other regions with proper care, attention and timing, these are the most common grasses in Wisconsin for residential lawns.
What is the best time to lay sod in Wisconsin?
Since it is considered a cool-season location, the ideal time to lay sod is in early spring or early fall. These periods offer moderate temperatures, leading to less stress on the sod and providing optimal conditions for root establishment before extreme temperatures of winter or summer. Avoid the summer, as high heat can stress the sod.
As you can see in the image below, you'll notice the most shoot growth (the grass above ground) and root growth in the spring and fall for cool season grases: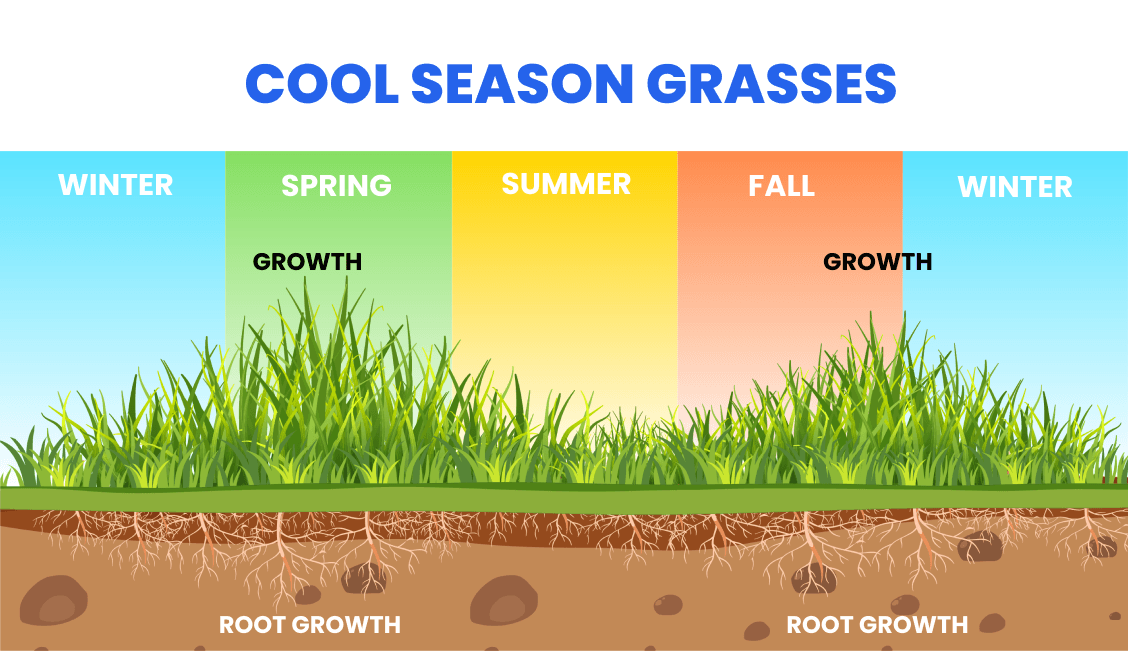 Best Grasses for Shade in Wisconsin
Got a tight spot with a tall tree? Have no fear. Wisconsin's varied landscape is no match for the right grass. So, which sods love shade and feel right at home in the Badger State? Here's our hit list.
Topping the chart is Fine Fescue. Minimalist at heart, this grass needs only four hours of sunlight per day. This means when your big trees are hogging the sun, Fine Fescue thrives. It also survives our cold winters like a champ.
Next up, St. Augustine grass; a Wisconsin superstar. Hearty and shade-loving, St. Augustine doesn't break a sweat under those big ol' Wisconsin trees either. While this type demands a slightly higher dose of sunlight, it still survives with as few as six hours each day.
Third in line, meet Kentucky Bluegrass. Known for its high shade tolerance, this grass struts a brilliant green coat, dressed to impress. Give this superstar six hours of daylight, and it will serenade your lawn with lushness.
Lastly, but definitely not least, Ryegrass comes into play. Its dense, dark-green character takes your lawn aesthetics to a new level. Six hours of sun and it's as happy as a lark.
Attention: Not all sod is created equal. Measure your lawn's typical sun exposure. Use our guide to choose the best option from the lineup. Whether beneath a towering Maple or a dainty Dogwood, your lawn deserves a shade-loving, Wisconsin-friendly sod. And remember, it's not just about sun-basking hours, consider grass hardiness and winter survivability. Every lawn has a perfect partner, let's help you find yours.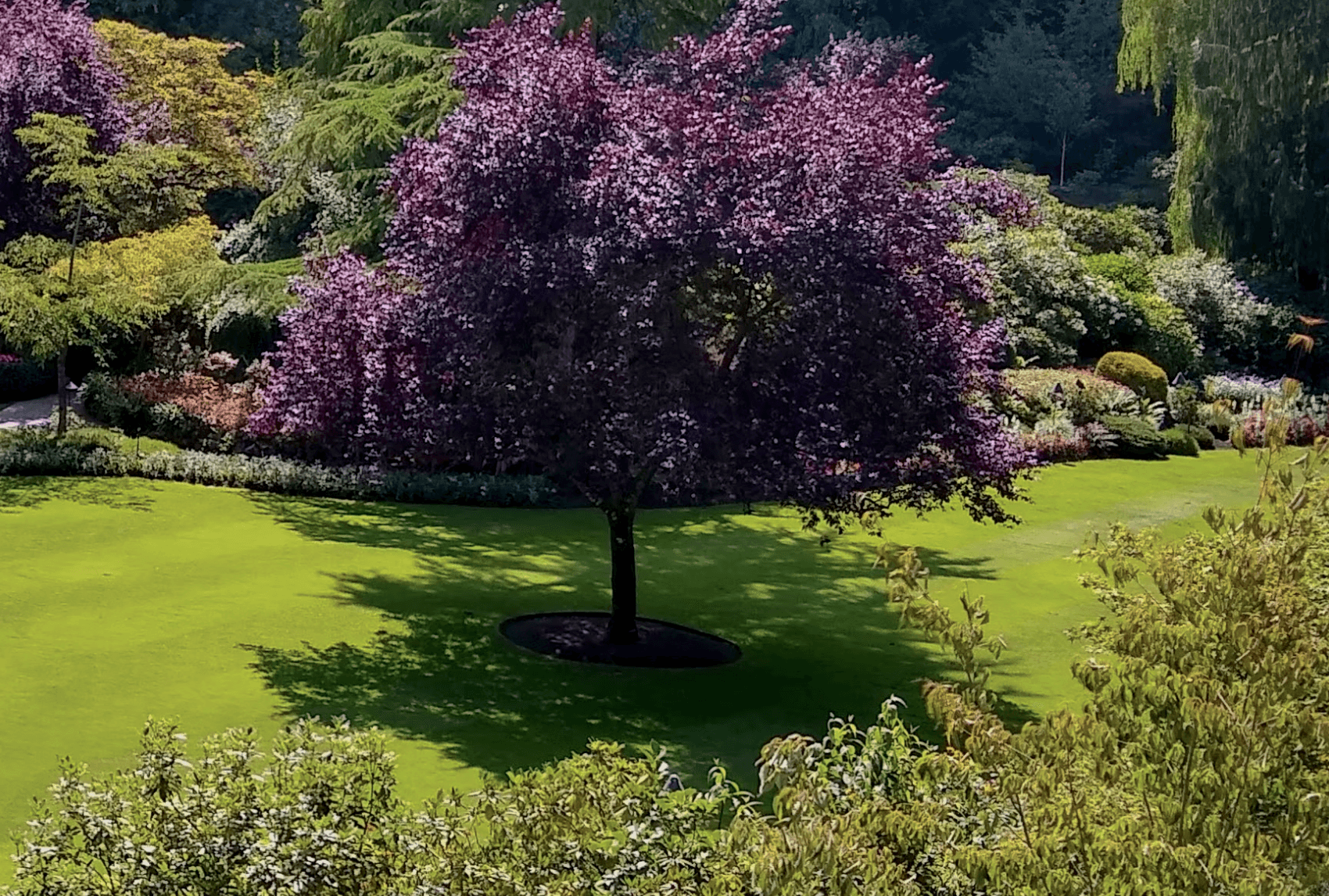 What grasses stay green year-round in Wisconsin?
As with anything agriculture related, there is some nuance to this question. There are many grasses that can stay green year round in but it depends heavily on your location within the state as well as any microclimates that may exist.
The following grasses have the ability to stay green year round in Wisconsin:
| Grass Type | Caveats |
| --- | --- |
| Tall Fescue | It typically stays green throughout the year in milder climates, given that it isn't overly stressed by heat or drought in the summer. |
| Kentucky Bluegrass | It can retain its green color for much of the year when well-maintained, though harsh winter temperatures can push it towards dormancy and a browner hue. |
| Perennial Ryegrass | It can stay vibrant and green throughout the year in many climates, unless conditions are extremely cold or dry. |
| Fine Fescue | It keeps its green color throughout the year in ideal conditions. If the winters are particularly harsh, it may lose some color. |